Float 32 Airbag Flotation Pack - Backcountry Access
Lowest Price Guarantee - The price below is the manufacturers suggested retail, we will match any other price available. If you find a lower price email us at store@csac.org and give us a chance to match it!.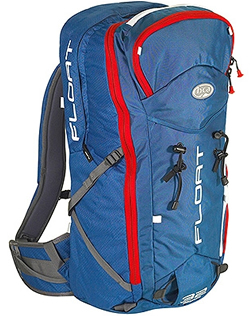 More details:
Does not include cylinder - purchase that separately!
Available in Red or Blue
The Float 32 is designed for pros, guides, and dedicated backcountry skiing and snowboarding junkies carrying the full quiver of essentials. Creating boyancy and helping you float to the surface, the 150-liter airbag not only decreases your burial depth but also protects your head and neck from trauma in an avalanche.
The Float 32 will carry all the common winter backcountry tools while supplying ample space for a first-aide kit, glacier travel equipment, and even supplies for extended multi-day trips. The trigger can be set in either the left or right shoulder strap, it is hydration compatible, and the airbag system is removable, making the Float 32 the most versatile airbag backpack on the market. BCA's many refill locations around the world make it the easiest refillable airbag system available. Float cylinder must be purchased separately.
Specifications
32 liters / 1950 cubic inches
6.6 pounds / 2984 grams (including cylinder)
150-liter airbag
3 Year Warranty
18-23 inch / 45.72 cm - 58.42 cm torso length
Highlights: Designated shovel/probe pocket, helmet and diagonal ski carry system, padded waist belt pockets, hydration compatible sleeve ice ax loops, load lifters, lined goggle pocket, and optional snowboard attachment (sold as accessory)
Colors: Red/Black or Blue/Red
To carry a snowboard on your Float you will need the extra kit. (If you are purchasing, or did purchase, your pack from us all accessories are greatly discounted! )
Three year full warranty from BCA.