CSAC Nalgene Bottles
Lowest Price Guarantee - The price below is the manufacturers suggested retail, we will match any other price available. If you find a lower price email us at store@csac.org and give us a chance to match it!.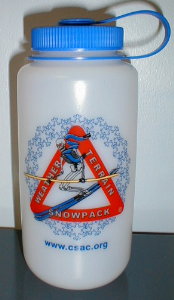 These 32 oz. bottles have the CSAC skiing skeleton design on one side and gradations (mL and oz) on the other side.
Bottles are wide mouth with an attached leakproof screw top that cannot get lost and are made of high density polyethylene. Made in the USA by Nalgene.